Landmarks Involved
Right Euryon (eu_r): The most lateral point on the parietal region of the head.
Left Euryon (eu_l): Same as above.
Measurement Description
This measurement attempts to capture the widest transverse dimension of the skull vault, which is typically located between the left and right parietal bones. Other common names for this measurement include: maximum head width/breadth and biparietal width/breadth.
Measurement Method
Traditional anthropometry with a spreading caliper. Using moderate pressure, the tips of the caliper are applied to the scalp in the region of the skull vault just above the ears. Maintaining constant pressure, the operator moves the tips of the caliper inferior/superior and anterior/posterior in an alternating manner, exploring the entire parietal region until the highest reading is observed on the caliper's scale.
Males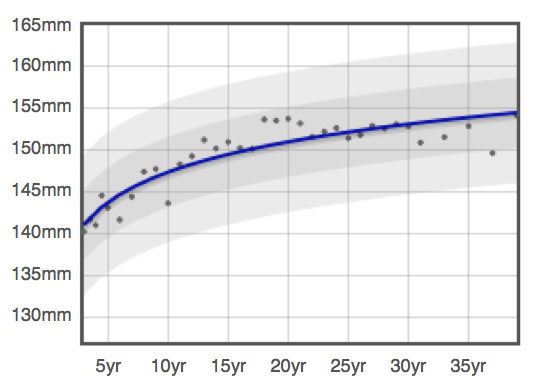 | Age | N | Mean | S.D. |
| --- | --- | --- | --- |
| 3 | 9 | 140.22 | 5.19 |
| 3.5 | 18 | 141.67 | 5.99 |
| 4.0 | 11 | 141.00 | 4.58 |
| 4.5 | 11 | 144.55 | 4.93 |
| 5 | 25 | 143.12 | 4.88 |
| 6 | 20 | 141.65 | 4.74 |
| 7 | 22 | 144.41 | 5.10 |
| 8 | 19 | 147.42 | 4.60 |
| 9 | 16 | 147.75 | 7.63 |
| 10 | 17 | 143.65 | 5.80 |
| 11 | 21 | 148.33 | 5.52 |
| 12 | 21 | 149.29 | 8.00 |
| 13 | 21 | 151.24 | 6.67 |
| 14 | 14 | 150.21 | 5.19 |
| 15 | 14 | 151.00 | 3.68 |
| 16 | 10 | 150.30 | 6.48 |
| 17 | 6 | 150.17 | 7.88 |
| 18 | 28 | 153.68 | 7.06 |
| 19 | 28 | 153.57 | 5.88 |
| 20 | 27 | 153.78 | 4.00 |
| 21 | 41 | 153.22 | 6.24 |
| 22 | 40 | 151.63 | 5.45 |
| 23 | 71 | 152.25 | 5.15 |
| 24 | 43 | 152.67 | 5.71 |
| 25 | 57 | 151.46 | 5.46 |
| 26 | 50 | 151.84 | 5.07 |
| 27 | 36 | 152.94 | 4.79 |
| 28 | 28 | 152.61 | 5.78 |
| 29 | 31 | 153.16 | 6.42 |
| 30 | 37 | 152.89 | 4.51 |
| 31 - 32 | 29 | 150.93 | 6.66 |
| 33 - 34 | 19 | 151.58 | 7.57 |
| 35 - 36 | 24 | 152.88 | 5.97 |
| 37 - 38 | 24 | 149.67 | 7.14 |
| 39 - 40 | 22 | 154.23 | 5.31 |
Females
| Age | N | Mean | S.D. |
| --- | --- | --- | --- |
| 3 | 13 | 133.85 | 4.98 |
| 3.5 | 18 | 136.44 | 3.84 |
| 4.0 | 13 | 139.54 | 5.38 |
| 4.5 | 6 | 138.00 | 4.69 |
| 5 | 20 | 139.60 | 3.68 |
| 6 | 21 | 138.24 | 5.87 |
| 7 | 10 | 142.00 | 6.36 |
| 8 | 13 | 139.85 | 5.23 |
| 9 | 21 | 143.00 | 6.82 |
| 10 | 18 | 141.44 | 5.38 |
| 11 | 20 | 144.05 | 5.84 |
| 12 | 20 | 143.75 | 6.92 |
| 13 | 25 | 147.92 | 5.20 |
| 14 | 14 | 145.57 | 5.49 |
| 15 | 14 | 147.00 | 4.37 |
| 16 | 6 | 149.00 | 6.20 |
| 17 | 9 | 145.44 | 4.77 |
| 18 | 38 | 146.37 | 5.44 |
| 19 | 57 | 146.96 | 4.51 |
| 20 | 61 | 146.98 | 5.03 |
| 21 | 67 | 147.42 | 3.78 |
| 22 | 82 | 146.12 | 4.83 |
| 23 | 104 | 145.30 | 5.14 |
| 24 | 83 | 145.99 | 5.10 |
| 25 | 80 | 145.59 | 5.40 |
| 26 | 62 | 144.98 | 4.91 |
| 27 | 70 | 146.27 | 5.46 |
| 28 | 56 | 145.66 | 4.31 |
| 29 | 39 | 145.59 | 6.18 |
| 30 | 48 | 146.90 | 4.95 |
| 31 - 32 | 86 | 146.36 | 5.34 |
| 33 - 34 | 63 | 145.48 | 6.13 |
| 35 - 36 | 57 | 144.12 | 5.41 |
| 37 - 38 | 50 | 144.58 | 6.53 |
| 39 - 40 | 41 | 145.41 | 5.22 |
Combined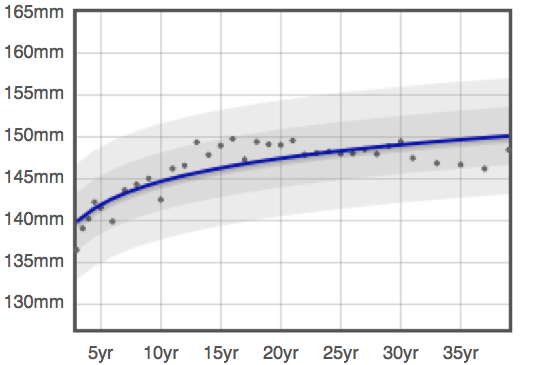 | Age | N | Mean | S.D. |
| --- | --- | --- | --- |
| 3 | 22 | 136.45 | 5.89 |
| 3.5 | 36 | 139.06 | 5.62 |
| 4.0 | 24 | 140.21 | 4.98 |
| 4.5 | 17 | 142.24 | 5.70 |
| 5 | 45 | 141.56 | 4.68 |
| 6 | 41 | 139.90 | 5.56 |
| 7 | 32 | 143.66 | 5.53 |
| 8 | 32 | 144.34 | 6.09 |
| 9 | 37 | 145.05 | 7.47 |
| 10 | 35 | 142.51 | 5.62 |
| 11 | 41 | 146.24 | 6.01 |
| 12 | 41 | 146.59 | 7.91 |
| 13 | 46 | 149.43 | 6.08 |
| 14 | 28 | 147.89 | 5.75 |
| 15 | 28 | 149.00 | 4.46 |
| 16 | 16 | 149.81 | 6.20 |
| 17 | 15 | 147.33 | 6.40 |
| 18 | 66 | 149.47 | 7.13 |
| 19 | 85 | 149.14 | 5.87 |
| 20 | 88 | 149.07 | 5.67 |
| 21 | 108 | 149.62 | 5.60 |
| 22 | 122 | 147.93 | 5.65 |
| 23 | 175 | 148.12 | 6.17 |
| 24 | 126 | 148.27 | 6.18 |
| 25 | 137 | 148.03 | 6.13 |
| 26 | 112 | 148.04 | 6.03 |
| 27 | 106 | 148.54 | 6.11 |
| 28 | 84 | 147.98 | 5.83 |
| 29 | 70 | 148.94 | 7.30 |
| 30 | 85 | 149.51 | 5.60 |
| 31 - 32 | 115 | 147.51 | 6.01 |
| 33 - 34 | 82 | 146.89 | 6.94 |
| 35 - 36 | 81 | 146.72 | 6.85 |
| 37 - 38 | 74 | 146.23 | 7.10 |
| 39 - 40 | 63 | 148.49 | 6.72 |