September 2021 FaceBase Bootcamp for Users and Contributors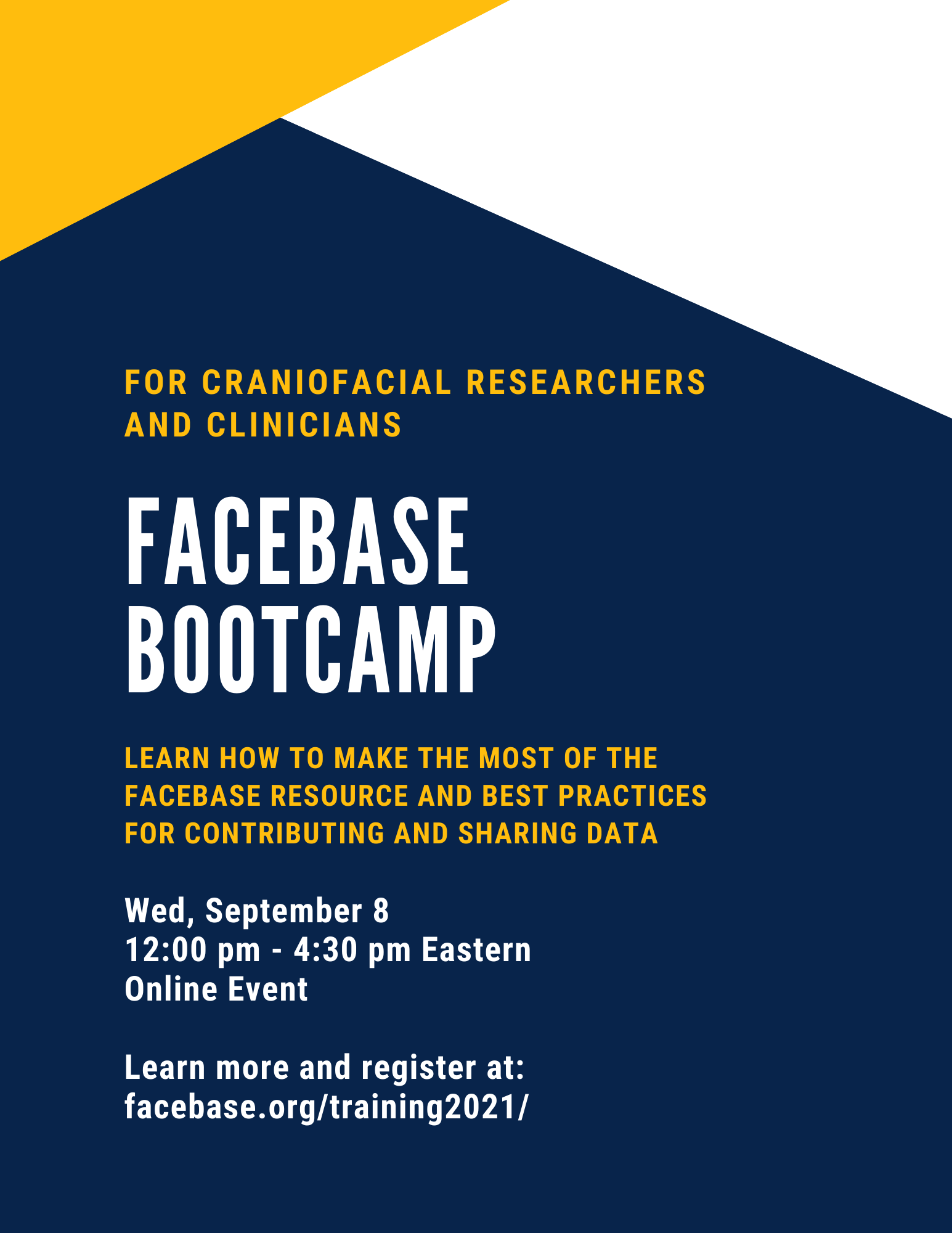 This bootcamp includes sessions for both users of FaceBase and those who wish to contribute data.
You can find the playlist of all bootcamp videos at this link .
Webcast Replays
Users Track
Data Submitters Track
Users Track
Site walkthrough
Searching for data
Exporting data
Requesting human (controlled-access) data
Data Submitters Track
Documentation
Documentation for submitting data is available at:
https://github.com/informatics-isi-edu/facebase-curation/wiki
Self-guided tutorial
You can find the information about the self-guided tutorial at:
https://github.com/informatics-isi-edu/facebase-curation/wiki/Self-guided-Tutorial
If you have any questions please email us at help@facebase.org.
Overview of the submission process
Submitting protocols
Demonstration of submitting data
Demonstration of using the Upload tool
Agenda
When?
September 8, 2021
All times are Eastern
The bootcamp has two scheduled tracks - one focused for users and one for data contributors:
12:00 pm to 1:30 pm Eastern - Users track - The FaceBase Hub will walk through the resources available on FaceBase, best practices for using the search interface, proper citation practices and how to export data.
2:00 pm to 4:30 pm Eastern - Data Contributors track - Learn about contributing data (including metadata and data models) and how data is curated (including updated information regarding protocols) along with a live demonstration of adding metadata and uploading data.
Calendar link: Outlook (.ics)
Where?
ZOOM (details will be emailed to registrants) with replay videos available after the event.
Who?
For craniofacial researchers, biologists, geneticists, clinicians, and students who are interested in:
accessing a wide breadth and depth of craniofacial biomedical data on facebase.org.
recent updates to FaceBase features.
contributing data (for example, to fulfill NIH data-sharing requirements).
How?
Just click this link to register: Registration form
Questions?
If you have any questions, please send them to help@facebase.org.