April 2022 FaceBase Bootcamp for Users and Contributors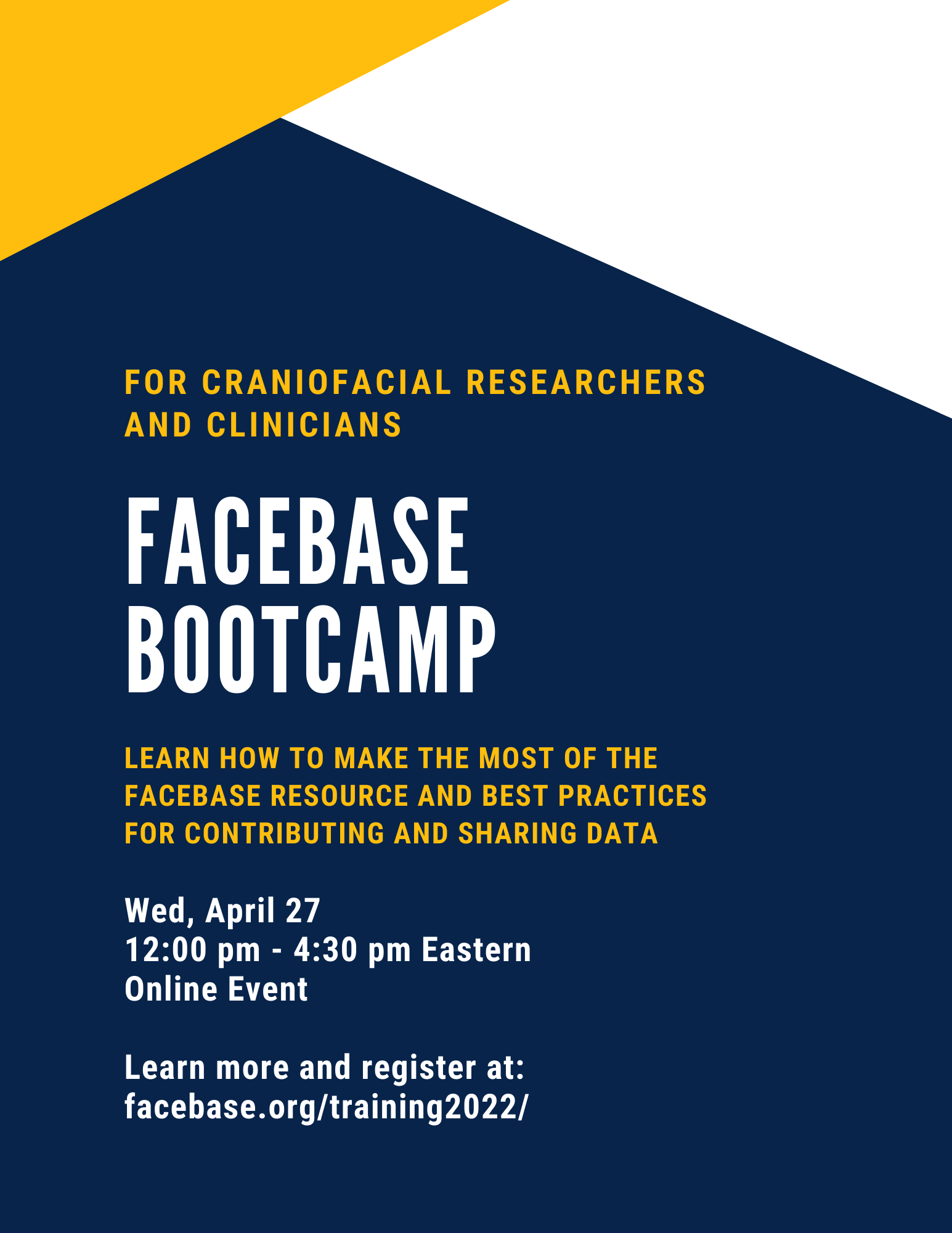 This bootcamp includes sessions for both users of FaceBase and those who wish to contribute data. We will also be introducing new features such as imaging data search, an updated imaging data pipeline and annotations capability.
You can find the playlist of previous bootcamp videos at this link.
Webcast Replays
Users Track
Data Contributors Track
Users Track
Site walkthrough
Searching for data
Exporting data
Requesting human (controlled-access) data
Data Contributors Track
Documentation
Documentation for submitting data is available at:
https://github.com/informatics-isi-edu/facebase-curation/wiki
You can also find the self-guided tutorial at:
https://github.com/informatics-isi-edu/facebase-curation/wiki/Self-guided-Tutorial
If you have any questions please email us at help@facebase.org.
Overview of the submission process
Submitting protocols
Submission Demo Part 1: Setting up metadata records
Submission Demo Part 2: Uploading files
Agenda
Click here to view the agenda.
Date and times
Wednesday, April 27, 2022
All times are Eastern
The bootcamp has two scheduled tracks - one focused for users and one for data contributors:
12:00 pm to 1:30 pm Eastern - Users track - The FaceBase Hub will walk through the resources available on FaceBase, best practices for using the search interface, proper citation practices and how to export data.
2:00 pm to 4:30 pm Eastern - Data Contributors track - Learn about contributing data (including metadata and data models) and how data is curated (including updated information regarding protocols) along with a live demonstration of adding metadata and uploading data.
Calendar link: Outlook (.ics)
Who is this for?
For craniofacial researchers, biologists, geneticists, clinicians, and students who are interested in:
Accessing a wide breadth and depth of craniofacial biomedical data on facebase.org.
Learning about new features
Contributing data (for example, to fulfill NIH data-sharing requirements).
How do I join?
Click here to register for this meeting via Zoom
After registering, you will receive a confirmation email containing information about joining the meeting.
Contact us with questions
If you have any questions, please send them to help@facebase.org.