FishFace
3D Viewer
System Requirements and Downloads
Viewing the 3D Dataset
Download 3D Viewer Tutorial
System Requirements and downloads
Check 1: System requirements
JAtlas viewer has been tested on the following platforms. It may work on others - please let us know and we'll update this list.
Macintosh (Power PC and Intel): Mac 0S X 10.4 or more recent
Windows 2000, XP
Check 2: Software
Please note: these programs may already be installed on your computer. Please check first.
J2RE (Java 2 Platform Standard Edition Runtime Environment) Version 5.0 or later: Download J2RE
Java Web-Start (If you have J2RE you should already have Web-Start)
Step 1: Download datasets
Step 2: Download JAtlas Viewer
When you click on the link below you'll be taken to a page where you can download the Viewer. Save the Viewer software to your local machine (instructions below) so that you can reuse it without having to return to the download link in the future.
Note to Windows users:
Go to the download page, right-click on the link and choose 'Save Target as' or 'Save Link as', and then choose where to save the Viewer software on your local machine.
Note to Mac users:
Go to the download page, and click on the link to download the Viewer software. If given the option to 'Run' or 'Save to disc', choose 'Save to disc'.
Mac users can also make a permanent JAtlasViewer app on your computer by following these steps:
Under "Applications", open "Utilities", then "Java Preferences"
In the Java Preferences window, click on "View Cache Files" tab
In the new window, click on the JAtlasViewer name in list of applications, then click on the black arrow button on the toolbar in the window.
Choose where you want the file to be saved. It will be saved as: "JAtlasViewer.app"
Viewing the 3D dataset
Annotated fields are visualised using the JAtlas Viewer program. The viewer contains an Anatomy Tree, listing structures organised by region. In the Anatomy Tree, names of bones can be double-clicked, and 3D objects appear or disappear in the Viewer window. Bones are colour-coded in the Anatomy Key. In the Viewer window, the 3D model of the limb can be rotated and magnified. Sections can be viewed by clicking on View Section from the Viewer window. The 3D Viewer Tutorials (download) provide detailed instructions on using JAtlas Viewer.

JAtlas Viewer showing 3D structures (middle), colour-coded Anatomy Key (left), and Anatomy Tree (right)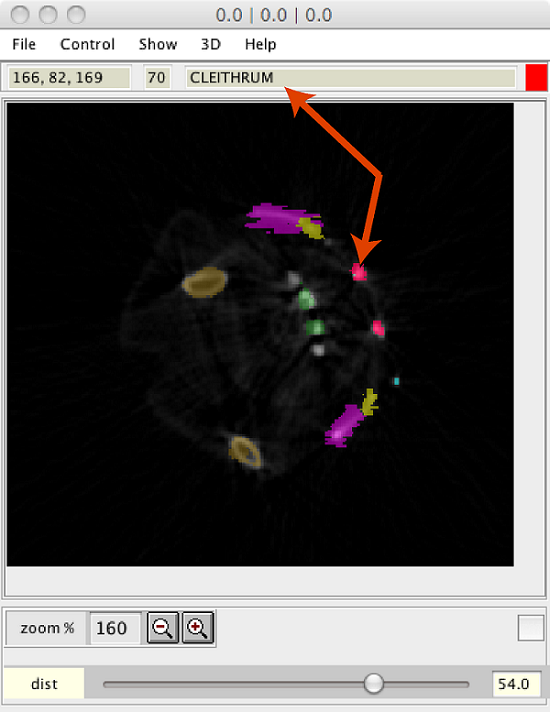 XY view bisecting the zebrafish head. The user can click on a bone and the name of the structure appears in the box above the section (indicated by arrow). Colours are the same as in the 3D model.